While you're home and life feels a little chaotic, I hope you find joy and peace in cooking and sharing a meal together—whether you're sharing it physically or digitally.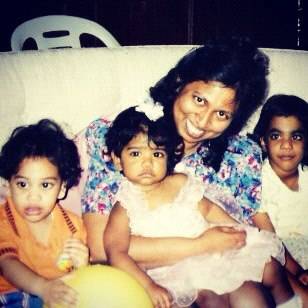 From left to right: my cousin Dylan, me, my mom and my cousin Natasha celebrating my first birthday. Clearly, I was very happy about turning one.
My parents immigrated from Sri Lanka more than 27 years ago and like any kid, I would say my mother is the best cook.
She knows what spices to combine and how to make any dish. I find I learn the most about her life in Sri Lanka wherever we cook together.
Between teaching me why cinnamon sticks are a kitchen-must have, she tells me stories and all of which centre around food. She remembers helping her grandmother harvest fruits and vegetables from her garden, cooking alongside her mom standing on a stool because she was too small to reach the stove, being a little bit competitive with her sisters because she wanted to be a better cook than them, and living in her home meant someone was always over for dinner: "You know Sri Lankan people, we just like to cook a lot and feed people."
On our website, you can find recipes we have tested ourselves. I am going to add some of my mom's too! Remember: we are here to support you. If you have any needs, don't hesitate to reach out.